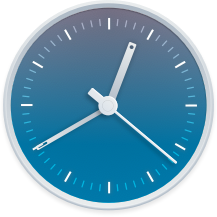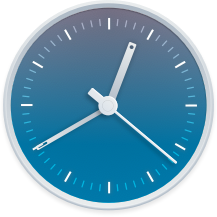 Horae
Timecode & Synchronization Tool
Main Features The Core
The Clock
Horaes Clock can be triggered manually or be slaved to external MTC and will be the timecode master in your show or application. The clock can transmit MTC to any MIDI destination in your system.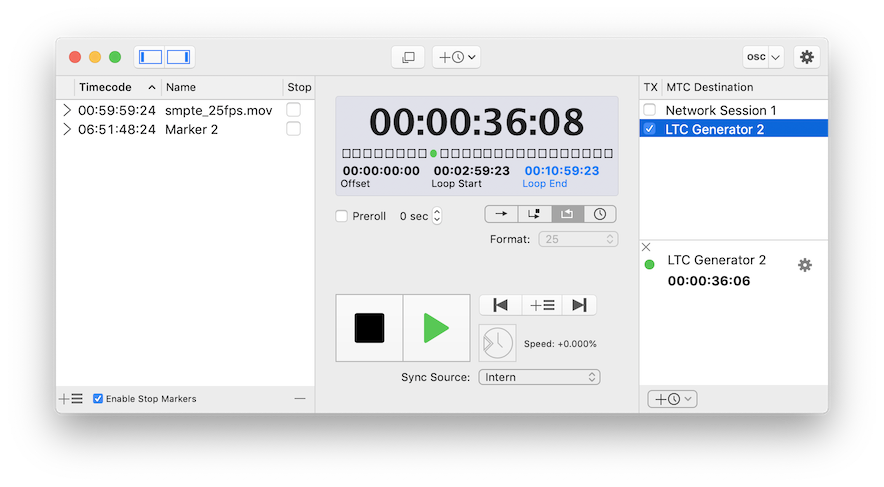 Media Playback Sync AV Media to Timecode
The Media Playback Feature allows to sync any kind of Av-Media to MIDI Timecode, either incoming from an other app, or generated by Horaes Master Clock.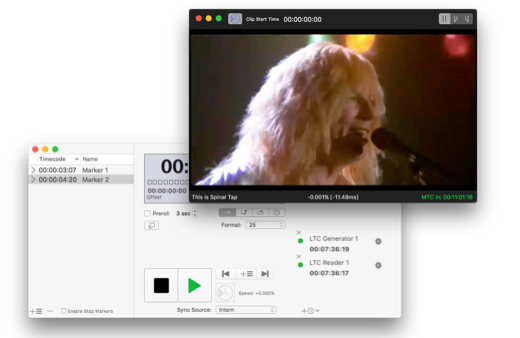 External Sync
The clock can act as a slave for every other MTC source in your system - just select the sync source and click the Arm button - you will be ready.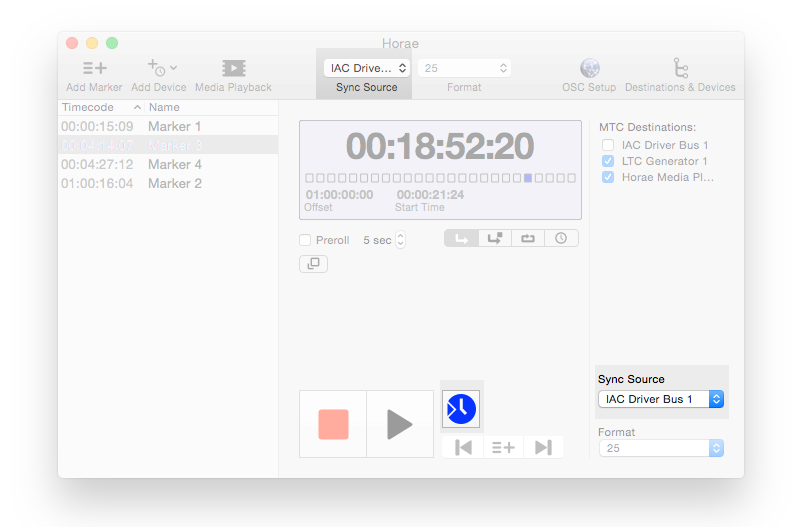 Timecode Devices
Create an unlimited number of LTC Reader or Generator devices and translate time into other domains or distribute to other machines.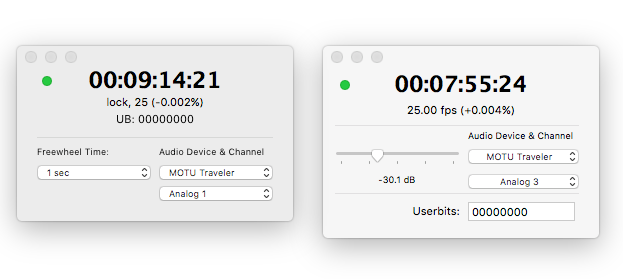 Buy or Try
Demo Try a demo version before you buy.
Download
Buy buy from our store
Buy
System Requirements
Horae requires macOS 10.12
For older versions that are compatible with previous system versions, have a look in the Version History
Timecode Devices
LTC Reader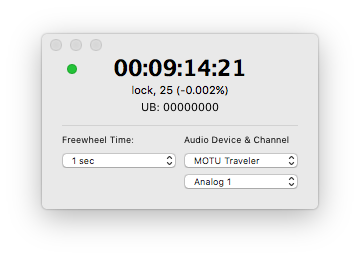 A LTC Reader device will listen to SMPTE LTC from a selected audio-device and input-channel and convert it into MIDI Timecode (MTC).
The timecode being read is available in to other MIDI Applications as MTC from a virtual MIDI Source.
LTC Generator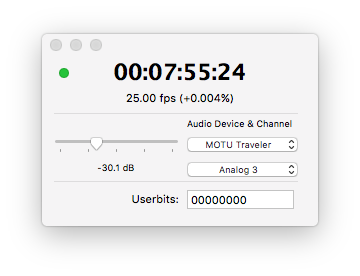 A LTC Generator requires MTC as input and creates an audio stream of SMPTE LTC. This audio signal can be fed into any other device in your setup that takes LTC as timecode input.
Similar to a reader, a generator will create a virtual MIDI destination - which will work independent from Horaes Main Clock if deserved.
LTC Extraction & Timecode Export
Horae can extract LTC from mediafile-audiotracks and export movies with a timecode-track. You can, e.g. record movies with your DSLR, feed a LTC generator into audio input and have them timecode-synchronized in post-production.
Quicktime compatible codecs are eligable for this feature (ProRes, H.264, HEVC) -- note, that audio must be encoded as Linear PCM.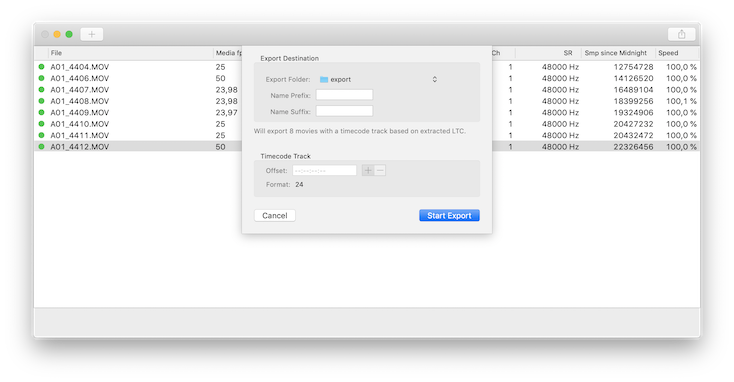 Timecode Calculator
The built-in timecode calculator will aid you for all kind of calculations involving timecode, duration and frames.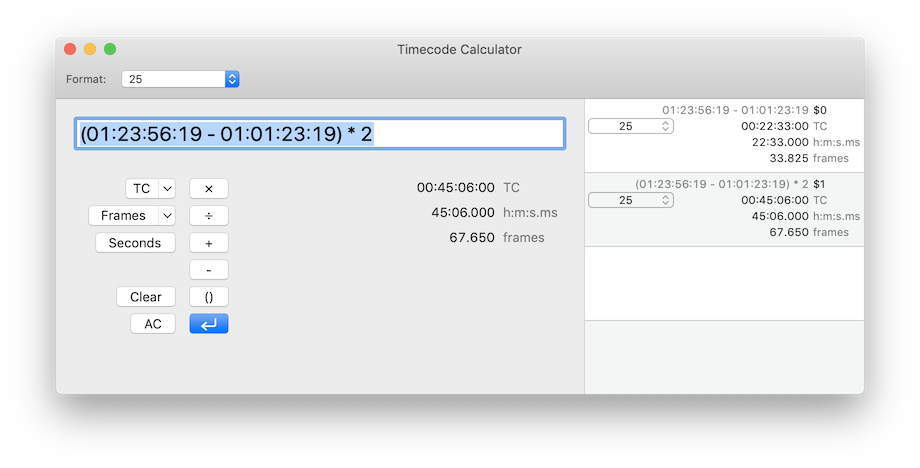 LTC Audiofile Export
Horae can export LTC- Audiofiles in various formats, sample-rates and adjustable playback speed.
Simply use the File > Export LTC-Audiofile... command in the main menu.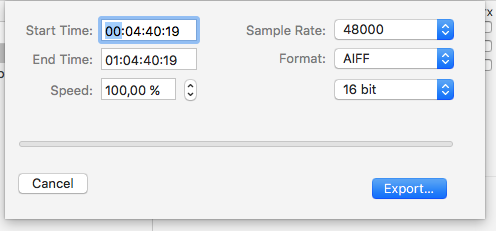 Routing Your Clockdomain. Everywhere.
On the right of the main window, you find Destinations and Devices section to see the Timecode-Routing possibilities in Horae.
In the upper part of the section you will see all MIDI destinations in your system. Check them, to have Horae's clock send MIDI Timecode to them.
In the lower part of the section you will find all devices created by Horae. Click the gear button to adjust its settings, you can also tear of the pop-up into to s separate window.
OSC Open Sound Control
Horae supports Open Sound Control, a network protocol to control musical devices & software.
This means you can fully control Horae over a network and view timecode.
Layouts for Touch OSC are available for download too.
More information on OSC can be found here