Licensing System
This article explains the licensing system for products purchased outside the Mac App Store.
Purchase
Licenses can be purchased via FastSpring in our store. After checkout, a serial number will be generated and sent to you via e-mail.
Activations
Every serial number grants up to five product activations. An activation connects a unique system-id and a user-id to the serial number.
Online activation from inside the product
The easiest way of acivation is when the computer to activate can connect to the internet, all action to be taken is to enter the serial-number in the License Window (Horae > License) and click 'Activate'.
Additionally, a license file will be mailed to you. It can be ignored in the first step, but can be used for manual re-activation after a re-install of the product (as long as the machine and user-name remains the same).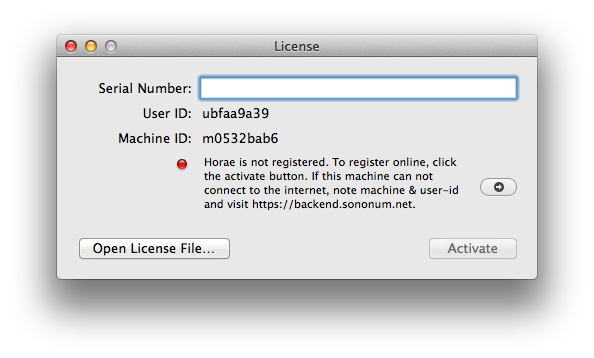 Manual Activations
If the machine that should be activated can not connect to the internet, manual activation is possible with this online site: sononum License Site
Enter serial number, machine-id and user-id in the form and click Submit.
If the entered serial is valid, you can download a License File. (you will also receive a mail with the license file attached)
In the License Window, click Open License File and select the license file you have downloaded.
The product should be registered now -- an alert window will inform you about the result.
Quit and restart the application.